Turkey tourist bus falls from cliff, killing 20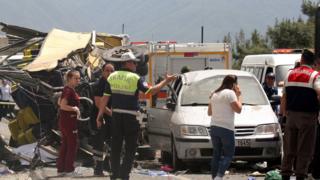 At least 20 people have died after a tourist bus fell from a cliff near the southern Turkey seaside resort of Marmaris.
Another 11 were injured when the driver lost control of the minibus and ploughed through a crash barrier.
Local media said no foreign tourists were among the passengers.
About 40 people were on board, according to Amric Cicek, governor of Mugla province, who suggested the brakes may have stopped working.
But the mayor of Marmaris, Ali Acar, told Turkish newspaper Hurriyet: "I think that the accident was a result of driver error."
Other media reports said the victims were mainly women and children.
Turkey's Andalou news agency said the crash took place on the Mugla-Antalya road at the Sakar Gecidi pass.
The vehicle landed on another section of road below after it went through the crash barrier.
Rescue teams were dispatched and the injured were taken to hospital, Andalou said.