The Disappeared: Reward for information to find IRA victims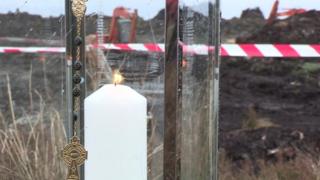 A reward of almost £50,000 is being offered for new information that results in finding the bodies of those murdered and secretly buried by the IRA during the Troubles.
The anonymous donation of $60,000 (£47,191) has been given to the independent UK charity Crimestoppers.
In spite of numerous searches, three of 16 victims – known as the Disappeared – have not been found.
They are Joe Lynskey, Columba McVeigh and Capt Robert Nairac.
Mr McVeigh's brother Oliver said the donation was "great news".
"Anything that helps the recovery process is very welcome," he added.
Crimestoppers takes calls confidentially by telephone or accepts information through an anonymous online form.
It says any information that it receives will be passed only to the Independent Commission for the Location of the Victims' Remains (ICLVR).
The ICLVR was set up to obtain information that may lead to where the bodies of the Disappeared are buried.
Information it receives is strictly confidential and is not passed to other agencies or used in prosecutions.
'Help victims' relatives'
Fiona McCormack, the director of operations at Crimestoppers, said anonymity would be maintained for those who present new information.
"People giving information can be safe in the knowledge that no-one will ever know who they are – not even us," she said.
"That is a promise we have kept since the charity began more than 30 years ago.
"The commission is doing an excellent job and to date the remains of 13 of the 16 Disappeared have been recovered."
Ms McCormack said the reward was "not about finding out what happened to these people" but rather to give victims' relatives the chance to "hold a long-overdue funeral".
"The reward was put up by an anonymous donor and is $20,000 (£15,730) for the recovery of each body," she added.
"It can only be claimed for information that goes directly to the Crimestoppers charity."
Geoff Knupfer, the lead investigator for the ICLVR, said his organisation was "not really interested" in who the anonymous donor was but he believed the money "might prove to be a game-changer".
"We do understand the payment of money for information is a contentious issue at the best of times," he told BBC Radio Ulster's Good Morning Ulster.
"But we have to make it clear that this is a humanitarian process.
"It's nothing to do with crime, it's simply about recovering the remains of the outstanding victims and returning them to their families – it's about closure."