Scottish independence: Thousands march in support of Scottish independence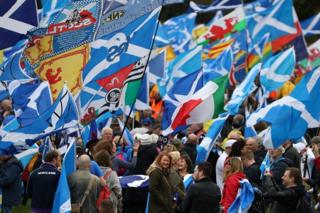 Thousands of people are marching through Edinburgh in support of Scottish independence.
Waving flags and carrying banners, they are walking from Holyrood Park to a rally in The Meadows.
Joanna Cherry, the SNP MP who led the legal fight against Boris Johnson's decision to suspend parliament, is among those who will address the rally.
Earlier Nicola Sturgeon tweeted to say she would be at the march "in spirit" but not in person.
"Be in no doubt – independence is coming," she added.
Organisers All Under One Banner said they expected more than 100,000 people to take part.
They are following Queens Drive, Horse Wynd, Canongate, High Street, Lawnmarket, George IV bridge, Forrest Road and Middle Meadow Walk.
Thousands march to support Scottish independence
Harry Baird, 19, was among those taking part. He said he wanted to join what he believed would be the biggest rally in the country's history.
The apprentice marine engineer from Orkney said: "There's a lot more than I thought I would see, to be honest.
"[I want] more radical and instant Scottish independence.
"Any change from what it is now would be worth it."
Gemma MacFadyen has backed Scottish independence since she was a child. The 34-year-old from Edinburgh said: "I'm here to support the cause for independence.
"To be honest, after the last referendum I was a bit deflated and disenfranchised and I was not going to be taking part anymore."
However, she said a recent trip to the west coast of Scotland "re-inspired" her, and so she decided to join Saturday's march.
She continued: "I've not really been caught up in the whole Brexit debate, I'm not bothered about that.
"But I am for another independence referendum, as soon as possible – it should've been ages ago."
All Under One Banner is a movement bringing together supporters of Scottish independence.
They said about 100,000 were at a similar event in the capital last year but an official estimate by City of Edinburgh Council put crowd numbers at 20,000.
Since forming in 2014, it has held events in towns and cities across the country.
City centre roads in Edinburgh are closed to accommodate the event.
Supporters were scheduled to leave Holyrood Park at about 13:00 before taking a route of about 1.8 miles (3km) to The Meadows.
A number of high-profile supporters of Scottish independence have been lined up to speak at the rally.
As well as Ms Cherry, they include comedian Janey Godley, broadcaster Hardeep Singh Kohli, and ex-MSP Tommy Sheridan.