Harry Dunn crash: Anne Sacoolas' return to UK 'non-negotiable'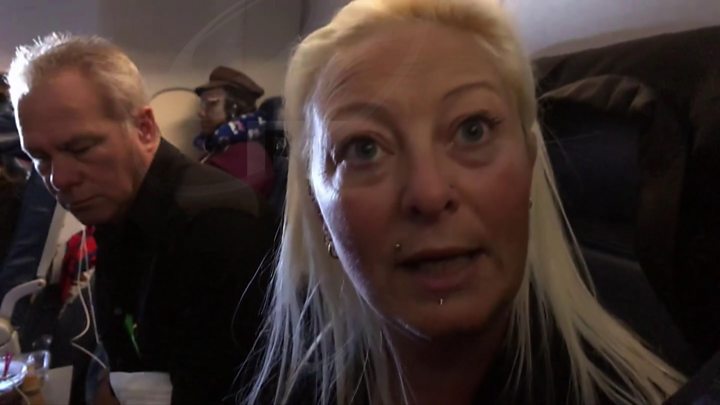 The parents of a motorcyclist killed in a crash say they will only meet the US diplomat's wife allegedly involved if she promises to return to Britain.
Harry Dunn, 19, died in a crash near RAF Croughton, Northamptonshire.
Anne Sacoolas left the UK under diplomatic immunity while police were investigating. She has offered to meet Mr Dunn's parents, who are in the US.
A Dunn family spokesman said the parents' pre-condition for a meeting was a "hurdle" to it taking place.
Radd Seiger told the BBC the parents, Charlotte Charles and Tim Dunn, were unlikely to meet Mrs Sacoolas this week.
"Mrs Sacoolas has to commit to returning to the United Kingdom to submit herself to the English authorities, to Northamptonshire Police, and to co-operate with their inquiries," he said.
'Deepest sympathies'
The parents hope to gain media exposure in the US, to put pressure on President Trump "to send Mrs Sacoolas back", he said.
Her return was "a non-negotiable red line", he told Sky News.
A letter from lawyers for Mrs Sacoolas said she wanted to meet Mr Dunn's parents "so that she can express her deepest sympathies and apologies for this tragic accident".
Mr Seiger said on Radio 4's Today programme it had been "a very, very dark time" for the family and that "every second that passes is another second of pain".
Mrs Sacoolas, 42, was said to be covered by diplomatic immunity as the spouse of a US intelligence official, though that protection is now in dispute.
On Saturday, Foreign Secretary Dominic Raab wrote to Mr Dunn's family to explain that the British and US governments now considered Mrs Sacoolas's immunity irrelevant.
He said the matter was now "in the hands" of Northamptonshire Police and the Crown Prosecution Service (CPS).