Brexit leads first Evening Standard under George Osborne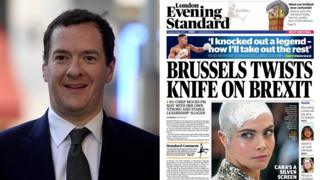 The first Evening Standard under George Osborne's editorship has focused on reported strained relations between the PM and the EU.
Under the front page headline "Brussels twists knife on Brexit, the paper's political editor says the European Parliament's chief Brexit negotiator has openly mocked Theresa May.
Former Chancellor Mr Osborne backed Remain in the referendum.
He had pledged to be "fearless" and "independent" in his new role.
'Straight facts'
As he arrived for his first day, Mr Osborne – the former Conservative MP for Tatton – said: "It's very exciting to be starting in the new job.
"It's a really important time in our country when people are going to want the straight facts, the informed analysis so they can make the really big decisions about this country's future."
His appointment in March provoked accusations he was juggling too many responsibilities, as he was still the MP for Tatton, and had recently taken on a £650,000-a-year position as an advisor to US investment company Blackrock.
He has since announced he will not be standing as an MP in the June general election.
The article goes on to refer to the reports of disagreements over the Brexit negotiations during a private dinner between Mrs May and the president of the European Commission, Jean-Claude Juncker last week.
But it notes No 10 attempted to keep out of the row, quoting the prime minister's spokesman as saying: "We approach these talks with all parties in a constructive manner and with a huge amount of goodwill."
In a leading article, the Standard says it will "argue for a Britain that doesn't retreat within itself but remains engaged in Europe and the world."
It says: "As the voice of London for 190 years, this newspaper will go on holding those in power to account without fear or favour.
"We will be the voice of London on issues from air quality to knife crime – as we are today – but we won't restrict ourselves to issues that primarily affect the capital."