Research grants 'boost jobs and growth'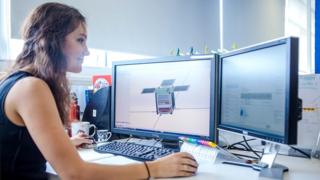 A national study shows that R&D grants to firms significantly boosts growth and creates jobs.
Grants totalling £8bn led to growth worth £43bn and created around 150,000 jobs.
The findings back the government's policy of subsidising promising industrial research – so-called "picking winners".
The analysis is the first to suggest that the policy might work at a national level.
Professor Stephen Roper from Warwick Business School and director of by the Enterprise Research Centre, who led the research, said that this was the first time that such a detailed analysis had been undertaken.
"Our study is the first time we have been able to do a comprehensive assessment across the whole gamut of science support provided by a UK public sector for companies.
"It shows very clearly that grants to support R&D have a positive impact, creating jobs and fuelling growth in the high-tech, high value-added sectors that the UK must encourage to remain competitive on the world stage".
Prof Roper and his colleagues tracked 15,000 high tech firms which received government R&D grants. It found that on average these firms employed 23% more people after six years compared to firms that didn't receive grants. Turnover grew by 28% and productivity by 6% over the same period.
The biggest growth in both employment and turnover occurred among manufacturing firms. The impact seems to be particularly large for the least productive companies. Smaller companies also benefitted more from the grants.
Job creation was strongest in London , the South East and the North West. The turnover of firms increased most in Scotland, Yorkshire and London.
The Prime Minister announced an expansion to industrial R&D funding last year as part of the government's industrial strategy. This included an extra £4.7bn for the science budget over the next four years. The plan is to boost UK industry by focussing on the country's research strengths.
A large proportion of the extra money will be for grants to invite collaborative projects between hi-tech firms and academic researchers. This will be partly funnelled through the so-called industrial strategy challenge fund, which aims to support key growth sectors including medicines, robotics and artificial intelligence (AI), clean energy and driverless vehicles.
There is concern though that the plan is a return to a discredit policy from the 1970s of state subsidies for failing firms.
Free market
A previous Conservative government set up and then abandoned a £350 million plan to support the computer sector in the 1980s because it was at odds with its policy of introducing free market principles to the economy.
There are also worries by some commentators that a top down approach to funding industrial research will lead to more resources for developing obvious, well established ideas at the expense of more innovative ones that would lead to the big breakthroughs that could be translated into successful businesses.
The new study though suggests that the policy of picking winners could work if it is properly targeted, according to Prof Roper.
"We get significantly larger effects growth effects in manufacturing than in services among smaller firms than larger firms. And so we may want to try and pick winners but pick winners within those groups or emphasise those groups a little bit more.
"So rather than backing national champions we should be looking to the next generation of national champions, promising small up and coming businesses that have the potential to scale up as those we should be supporting".
Follow Pallab on Twitter