Theresa May: Help me fulfil promise of Brexit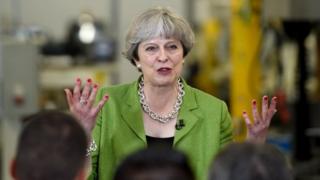 Theresa May will set out her vision for a "Britain beyond Brexit" as she attempts to seize control of the agenda with a week to go to polling day.
Mrs May will pledge to use the "promise of Brexit" to build a "stronger, fairer and even more prosperous" country.
And she will urge voters to unite behind her leadership, in a speech in north-east England on Thursday.
For Labour, Jeremy Corbyn is promising to save commuters £1,000 on rail fares over the next five years.
'Alive with possibilities'
Mrs May called a snap general election – after previously saying she would wait until 2020 – because she said she wanted to strengthen her hand in Brexit negotiations.
In a speech on Thursday, she will stress the importance of getting Brexit right – something she will claim is only possible under her leadership.
"If we get Brexit right, then together we can do great things," she will say.
"We can build a Britain beyond Brexit that is stronger, fairer and more prosperous than it is today.
"A Britain beyond Brexit that is more global and outward-looking. A Britain alive with possibilities, more confident in itself, more united and more secure.
"A country our children and grandchildren are proud to call home."
'Ogres across Europe'
Mr Corbyn and Mrs May were on the same side in last year's EU referendum – against Britain leaving the EU – although they never campaigned together.
Both have said they respect the verdict of the British people, and have also ruled out a second referendum on the divorce deal Britain negotiates with the EU.
Mrs May has claimed Mr Corbyn is "not ready" to take part in Brexit negotiations, which are due to begin 11 days after polling day on 8 June.
But shadow education secretary Angela Rayner claimed on Wednesday the way Mrs May had handled Brexit negotiations so far "has made us look like ogres across Europe".
Mr Corbyn has said he would fight to protect workers' rights, environmental protections and access to the single market for UK business in Brexit talks.
Rail fares
Labour are promising to save commuters more than £1,000 on their season tickets over the next five years, if they win the election.
Currently, regulated fares are increased using the retail price index measure of inflation. Labour say they will use the lower consumer price index instead.
Mr Corbyn said: "Under the Conservatives, rail fares have skyrocketed and tickets are some of the most expensive in Europe.
"Labour will take Britain's railways back into public control and put more money into people's pockets by capping fares.
"This will save commuters £1,014 on their rail season tickets over the next parliament, as part of our plan to promote services for the many, not the few."
A Conservative spokesman said: "Once again Jeremy Corbyn simply hasn't done his sums.
"Renationalising the railways will either add billions of pounds to our national debt or hit ordinary working people in the pocket with higher taxes.
"It's yet more economic shambles from Labour."