Jeremy Corbyn 'determined to finish job'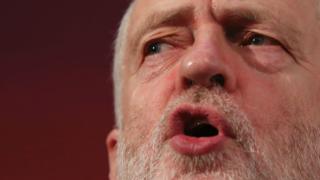 Jeremy Corbyn says he takes his "share of responsibility" for the Labour Party's recent by-election loss, but is "determined" to stay on as leader.
Writing in the Sunday Mirror, he said the party could "turn back the Tory tide" if members worked together.
Mr Corbyn is set to give a speech to the Scottish Labour Party conference in Perth on Sunday.
Deputy party leader Tom Watson told delegates on Saturday that now is "not the time" for a leadership contest.
The Conservatives won the parliamentary seat in Copeland, Cumbria, from Labour in the first by-election gain by a governing party in 35 years.
Prime Minister Theresa May hailed the victory as "astounding", saying it showed her government was "working for everyone".
In the other by-election this week, Labour retained its seat in Stoke-on-Trent Central, fending off competition from UKIP leader Paul Nuttall, who came second.
'We haven't done enough yet'
Mr Corbyn said losing the seat in Cumbria – which had been held by the party for 80 years – was "deeply disappointing".
He said: "Labour's share of the vote in Copeland has been falling for 20 years and of course I take my share of responsibility.
"We haven't done enough yet to rebuild trust with people who have been ripped off and sold out for decades and don't feel Labour represents them."
But he wants to remain leader and "take our message of economic renewal and fairness to every part of Britain".
Mr Corbyn added: "I was re-elected… five months ago with a bigger majority and I am determined to finish that job; to reconnect Labour with our working-class voters and values so we can win power to rebuild and transform Britain for the many, not just the few."
Mr Watson told party delegates on Saturday that he would not seek to "sugar coat" the loss in Copeland, but was not looking to oust the leader.
"All of us with leadership roles in the Labour Party need to have a long hard look at ourselves at what's not working," he said.
"I have said it a lot recently – this is not the time for a leadership election, that issue was settled last year."
BBC political correspondent Carole Walker said Mr Corbyn's words were unlikely to reassure critics who fear they are heading for defeat at the general election under his leadership.
They include David Miliband, who lost out on the Labour leadership in 2010.
The former foreign secretary told the Times that the party is at its weakest point in half a century and he was "deeply concerned" for its future.
The leader of trade union Unison, Dave Prentis, separately told the Guardian the by-election loss was "disastrous" and called on Mr Corbyn to "take responsibility" for what happens next.
Gerard Coyne, who is standing to replace Len McCluskey as general secretary of the Unite union, said there was "no doubt" Copeland had been a "meltdown" for Labour.