General election 2017: Greens 'would hold Tories to account'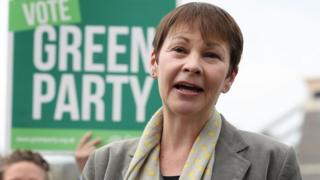 Green MPs will hold Theresa May's government to account should the Tories win the election, co-leader Caroline Lucas is to pledge later as she sets out her party's key priorities.
The Greens say they have plans for a "confident and caring country".
They say they want to "reverse the privatisation of the health service" and give Britons a referendum on the terms of a Brexit deal.
The party is expected to say young people have been let down by ministers.
Other plans due to be announced as part of the party's so-called Green Guarantee include protecting the environment and bringing forward proposals for a universal basic income and a shorter working week.
Co-leaders Ms Lucas and Jonathan Bartley are set to focus on young people, claiming that a generation has been let down by a government "hell-bent on an extreme Brexit" and an economy that "fails the majority".
The party will pledge to immediately guarantee the rights of EU citizens, protect freedom of movement and give the British public, rather than just Parliament, the final say on any EU deal.
Mr Bartley said his party was "unapologetic" in fighting to remain close to Europe, and in defending free movement.
He told BBC Breakfast that a second referendum would include the option of remaining in the EU because it was not clear how the negotiations would pan out and people should have the right to change their mind.
"Let's have the conversation about it," he said.
On other issues, by calling for a £10 an hour minimum wage by 2020 and a shorter working week, he said his party were putting forward "bold ideas…and asking simple questions about who the economy is for".
"As a country, we are more wealthier than ever before and have seen more technical advances but people have not seen the benefits," he said.
Pressed on whether people would be able to work fewer hours on the same pay, he pointed to the £20bn which he said could be raised by reversing corporation tax cuts over the past seven years.
The Green Guarantee will also promise to "reverse the NHS funding gap", in part paid for by scrapping Britain's nuclear weapons system.
Ms Lucas will say: "Green MPs elected on 8 June can be trusted to protect our public services, fight for a close relationship with the EU and truly hold whoever is in government to account.
"If we do end up with a Tory government you can be sure that Green MPs will hold Theresa May's feet to the fire."