Election 2017: May and Davidson promise to stand up to SNP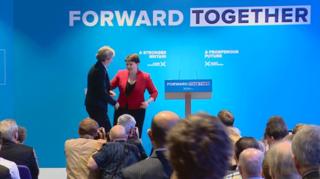 Theresa May and Ruth Davidson have made a pledge to stand up to the Scottish National Party at the launch of the Scottish Conservatives' manifesto.
They were speaking at an event in Edinburgh .
Scottish party leader Ms Davidson told the gathering that the election on 8 June was about "bringing the SNP down to size".
Prime minister Mrs May said the Conservatives were the "only party" able to stand up to the SNP.
Ms Davidson set out her proposals 24 hours after the launch of the UK Conservative manifesto.
The Tories are hopeful of gains in next month's election, having made significant progress in May's local elections. The party won just one seat in the 2015 general election.
Scotland's other political parties are expected to launch their manifestos next week.
Mrs May began her address by saying the election was defined by "one question, and one question only – who can lead us through Brexit and get a deal that works for the whole of UK?".
She explained: "This manifesto is my plan for a stronger union and a better Britain. My plan to build a country that works for everyone, not just a privileged few."
The politician said there were challenges ahead but she believed she had a "credible, deliverable programme for government around which the whole country can unite".
Mrs May added: "Unlike the offerings of other parties, we are being upfront and honest with the British people about the scale of the task we face.
"Because leadership means being straight with people about the challenges ahead and the hard work required to overcome them."
She went on to attack the SNP, accusing the party of letting Scotland's young people down because of its "tunnel-vision obsession with independence".
Page 34 of the Scottish manifesto said that "now was not the time" for another referendum and that in order for one to be be held;
the Brexit process needed to be "played out"
and it should not take place "unless there is public consent for it to happen".