Brexit boosting independence support, Plaid Cymru MP claims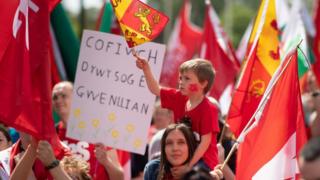 Brexit will do for independence what Thatcherism did for devolution, one of Plaid Cymru's MPs has said.
Jonathan Edwards told his party's conference in Swansea the vote to leave the EU has driven a "sledgehammer through the post-devolution period".
Independence has risen up the Welsh political agenda following a series of marches held across Wales.
"We can finish the job started by devolution," the MP for Carmarthen East and Dinefwr said.
Plaid is holding the second day of its autumn conference at the city's Grand Theatre.
In a vote party members backed campaigning to scrap Brexit at a general election if the UK government sought a mandate for leaving the EU without a deal.
Plaid said it backs a new referendum on Britain's status in the EU in all other circumstances.
Hywel Williams, MP for Arfon, said: "If the UK Government seeks a crash out, no deal mandate, Plaid Cymru must and will campaign to revoke Article 50 because at that point, that will be the only lever left to protect Wales and our communities from the disastrous effects of no deal."
In his speech on Saturday Mr Edwards said he remembered "writing a university dissertation trying to explain the differences" between the 1979 and 1997 Welsh devolution referenda, "and why Wales had gone from being overwhelmingly opposed to devolution to marginally voting in favour in the space of 18 years".
"The main reason was Thatcherism inflicted upon Wales immediately after the first referendum. The people of our country yearned for a degree of protection via self-government," he said.
"The Brexit referendum drove a sledgehammer through [the post-devolution] period in Welsh history and now the stakes in the game have been raised considerably.
"On the one hand Wales as a political nation will be re-subsumed by Westminster. On the other hand, we can finish the job started by devolution and become a normal independent European country."
The MP added: "I am more convinced now than ever that Brexit, whatever happens from here in, will be for independence what Thatcher was for devolution."
He claimed that "the middle ground will increasingly evaporate on the national question" for Wales.
"Unionism will move towards abolition of the National Assembly and nationalists will move towards independence."
Analysis by Cemlyn Davies, BBC Wales political correspondent
A few weeks ago senior Plaid Cymru figures were pushing the line that the party would head into a general election with a clear commitment to revoke Article 50 and stop Brexit.
Since then they've rowed back slightly: the party's official position now – backed by conference delegates – is that it favours a second referendum, unless the prospect of a no-deal Brexit remains.
Faced with the prospect of leaving the EU without a deal Plaid would revert to revoke.
In reality, it is hard to see how the prospect of a no-deal Brexit could be taken off the table completely ahead of any general election, and a senior Plaid figure told me it is inevitable therefore the party's manifesto commitment will be to stop Brexit in its tracks.
How that plays out in the leave-voting areas the party's targeting for the next assembly elections remains to be seen.
A bid to replace Plaid Cymru chairman Alun Ffred Jones with Dr Dewi Evans failed on the second day of conference, following a vote.
Dr Evans has expressed support for independent assembly member Neil McEvoy, who was expelled from the party in March 2018.
Plaid Cymru Chair, Alun Ffred Jones says he'll do his best to ensure the party "moves forward united" following his re-election to the position.
Mr Jones secured the backing of party members at their conference in Swansea having faced a challenge from Dr Dewi Evans.
"I'm very, very grateful to the members for putting their confidence in me and I'll do my best over the next two years to serve the party as best I can and to ensure we move forward united," he said.
Dr Dewi Evans had expressed support for Independent AM Neil McEvoy who was expelled from Plaid Cymru in March 2018.
Mr McEvoy withdrew an application to rejoin the party in July claiming "a lack of natural justice and due process".
Asked if the party would consider a fresh application by Mr McEvoy to rejoin Plaid Cymru, Mr Jones said: "He has every right to make an application and it will be listened to according to the method that has been decided according to the constitution like everybody else."
Party members heard from senior Sinn Fein politician Mary Lou McDonald on Saturday afternoon.
Dismissing Boris Johnson's proposed Brexit deal as a "sop" to the DUP ahead of an election, the party's president it sought to "dismantle the guarantees contained in the Backstop".
"Boris, we will not allow you vandalise our country, ruin our economy and destroy our peace," she told conference.
Ms McDonald said she looked forward "to the day" that Ireland, Scotland, Wales and England" take seats at the table as sovereign and independent nations."
A pledge to pass an autism act for Wales under a Plaid Cymru government was among the motions passed by members.
They also passed a "ten-point plan" for schools aimed at improving teachers work conditions and provide "adequate" funding.
Party leader Adam Price said he believed a referendum on Welsh independence would be held by 2030 – while demanding £20bn in reparations from Westminster.