Social care workers face 'unfair conditions'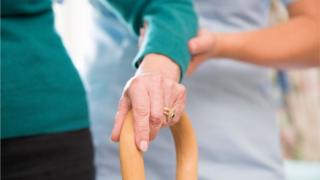 Social care workers in Scotland often face "excessive" shifts and unfair conditions, an inquiry has found.
The Fair Work Convention said staff frequently worked beyond contracted hours and did unpaid overtime.
The convention, which advises the Scottish government, called for a watchdog to monitor working conditions and draft a "fair work" contract.
Scottish Care, which represents care providers, said too many authorities purchased services "on the cheap".
The Scottish government said it agreed that enhancing fair work was crucial to a future social care workforce, and was publishing an action plan.
Most vulnerable
The 18-month study was led by the chief executive of Alzheimer Scotland Henry Simmons and Lilian Macer from Unison.
It concluded that more than 200,000 people worked in social care in Scotland – 7.7% of the workforce – with about 82% of them women.
However, they were often on zero hours contracts and expected to work excessive hours, the study found.
The report said employers complained that it was hard to offer better employment conditions because of problems with funding or commissioning.
Co-chair of the Fair Work Convention, Prof Patricia Findlay of Strathclyde University, said ensuring fair work for social care workers was crucial to ensuring that some of the most vulnerable in society received a high quality of care.
She added: "It is concerning to see that this is not currently being realised, mainly due to issues caused by existing funding and commissioning systems, and the lack of an effective voice for workers.
"The findings highlight the urgent need for policy makers, commissioners and leaders in the social care sector to work together to set minimum fair work standards for the social care workforce, and provide the opportunity for ongoing dialogue and agreement on workforce matters."
'Unfair' market conditions
Scottish Care, which represents many independent care providers in Scotland, said the report was right to flag up problems with the commissioning process.
National director Karen Hedge said: "To be able to have fair work conditions you have to have fair commissioning.
"At the moment we have unfair market conditions which means effectively there is one sole buyer, mostly the local authority and that drives down prices, and certainly devalues social care."
She said some providers were having to deliver services at a cost they were unable to afford in order to avoid disrupting the lives of their clients.
"Commissioners push for output, not for outcomes and they continue to measure the way we deliver social care in time, which can never measure the impact that care can have," she added.
She said a solution would require better funding and addressing issues such as skill development that were squeezed when commissioners tried to purchase social care "on the cheap".
'Default position'
In a statement, the Scottish government said it would publish a fair work action plan on Wednesday to directly address recruitment issues in the sector.
The statement said: "We are committed to improving social services and the quality of care, and we agree with the Fair Work Convention that enhancing fair work for social care workers is crucial to ensuring a workforce for the future – and to delivering high quality social care services to some of our most vulnerable citizens.
"Later this week we are publishing a fair work action plan. This builds on the fair work framework and the first minister's announcement last year to adopt a new default position, termed 'Fair Work First'."
The government said it would increase investment in social care to exceed £700m in 2019-2020 and had introduced the so-called real living wage for adult care workers in October 2016, which it said had benefited 40,000 in the sector.