Carrie Fisher died from 'sleep apnoea and other causes'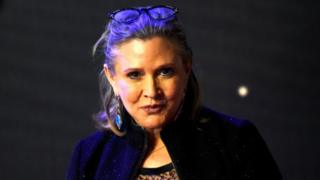 Star Wars actress Carrie Fisher died from sleep apnoea and "other factors", the Los Angeles County coroner says.
Her death certificate said in January that the 60-year-old, best known for her role as Princess Leia, had suffered a cardiac arrest.
But in a statement the LA coroner said the exact cause was unknown.
Sleep apnoea is a common condition in which a person stops breathing during sleep, either for a few seconds or minutes.
As well as listing sleep apnoea as a cause of death, the coroner's statement cited other factors, including heart disease and drug use.
Her manner of death would be listed as undetermined, it said.
Fisher had been on tour promoting her book The Princess Diarist when she was taken ill on a flight from London to Los Angeles on 23 December.
She never regained consciousness and died on 27 December at the Ronald Reagan UCLA Medical Centre.
Her mother, actress Debbie Reynolds, died the following day.