US key interest rate highest since 2008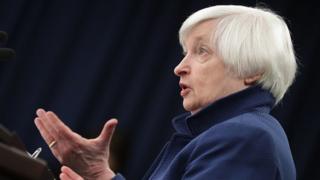 The US Federal Reserve has said it would raise its key interest rate by 0.25%, the second rise this year.
The central bank voted to raise its key rate target to a range of 1% to 1.25%.
That's the highest level since 2008, when policymakers cut rates to encourage borrowing and spending after the financial crisis.
The bank also said it would begin cutting its bond holdings and other securities this year.
It cited continued US economic growth and job market strength as reasons for raising rates.
The rise was widely anticipated after a low unemployment rate, but other economic indicators, including inflation, have been weaker.
Data on Wednesday showed US consumer prices unexpectedly fell in May and retail sales recorded their biggest drop in 16 months.
This has raised questions about the bank's future course.
Federal Reserve policymakers have been grappling with when and how to alter the policies put in place after the 2008 financial crisis, when they lowered rates and acquired a large portfolio of US Treasuries and mortgage-backed securities.
The Fed raised interest rates for the first time since the crisis in December 2015. Policymakers acted in December 2016 and again in March.
Policymakers have said they expect to raise rates at least three times this year.
The moves depend on the strength of the economy, which has been mixed.
On Wednesday, the US Labor Department reported that prices for goods excluding food and energy increased by 1.7% from May 2016, slowing steadily from earlier in the year.
That fell short of the Federal Reserve's target of 2%.