Moody's downgrades China's credit rating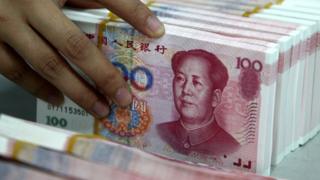 China has received a downgrade on its credit score, on worries about the future state of the economy.
Moody's Investors Services brought down China's long-term local currency and foreign currency issuer ratings by one notch to Aa3 from A1.
The move could lead to a rise in the cost of borrowing for the Chinese government and state-owned enterprises.
The ratings agency also changed its outlook for China to stable from negative.
Moody's said in a statement that the downgrade reflected expectations China's financial strength will "erode somewhat over the coming years, with the economy-wide debt continuing to rise as potential growth slows".
The Chinese economy expanded by 6.7% in 2016 compared with 6.9% the previous year, the slowest growth since 1990.
China is the world's second-biggest importer of both goods and commercial services, meaning its economic performance has a big knock-on impact around the world.
It plays an important role as a buyer of oil and other commodities, and its slowdown has been a factor in the decline in the prices of such goods.
Beijing's aim to rebalance the economy towards domestic consumption has led to major challenges for large manufacturing sectors, and there have been layoffs – especially in heavily staffed state-run sectors such as the steel industry.
The downgrade comes as Beijing has been making efforts to clean up its lending practices, which have been viewed as a threat to financial stability.